Jay & Oak Solutions, LLC Policies & Terms of Use
This Privacy Policy is effective as of July 1, 2021.
You may contact us concerning this Privacy Policy at the following e-mail address: jonathan@jayandoak.com
Jay & Oak Solutions, LLC.
Privacy & Data Security
As a part of our services and operations, we capture, manage and store data that may include your Personal Information. We've created this Privacy & Security Policy to explain why what data we capture, how it will be used and the circumstances under which we may disclose this information.
When you visit, register on our site, or by use our service, regardless of the manner or device made available and supported by us through which you choose to do so, you are agreeing to our Privacy Policy which is outlined below.
We assume certain responsibilities and make related commitments to you. We also clarify that we are not liable with respect to misuse of the site by you or others and other third-party risks beyond our control that may affect your Personal Information.
By using our site or signing a contract for our services, you agree to the terms of this privacy policy and you expressly consent to the processing of your personal information according to our privacy policy. Any and all of your personal information may be processed by us or on our behalf in the country where it was collected as well as other countries (including the United States) where laws regarding processing of personal information may be less stringent than the laws in your country.
What is Personal Information?
Your Personal Information includes your name, your mailing address, your billing address, your phone number, your e-mail address and any other demographic and personally identifiable information about you as an individual.
If you are a business or enterprise customer, personal information will also include business information that you contribute which concerns business and personal relationships between your organization and other individuals and organizations ("Bookkeeping Data").
You can email or upload Personal Information to us securely so that we may fulfill your request to provide you with our services. We might also ask for other Personal Information if you request information about or order our products and services, participate in our marketing, sales or other promotional activities, or correspond with us. If you are in a part of our site that requires you to provide your Personal Information, it will be clear what Personal Information we are requesting.
Why do we collect your information?
Here's why we collect, use and disclose information that can identify you:
so we can establish and identify who you are; so we may provide you the services offered by our company; so we may bill any amounts due from you; to solve and troubleshoot any problems;
to improve the usability, performance and effectiveness of our Company and its Operations; to update you with news, updates, and reminders related to our services; to enforce our Terms of Service; to protect us and you from error and fraud;
so that we may fully understand your needs; to comply with legal and regulatory requirements; and as otherwise described to you at the time of collection.
We only collect Personal Information that we consider necessary for achieving the purposes we just listed above.
We may also collect, process, store and analyze anonymous information about you obtained from your browser or through the use of "cookies" or other tools that track, measure and analyze the behaviors and usage patterns of visitors to our site.
We might also send you email communications about our service. You have the option to opt out of receiving these by email request. But please note: even if you unsubscribe or opt-out, we may still send you urgent service-related communications (e.g., if your credit card payment was declined). If you do not wish to receive them, you must delete your account with us.
Who do we share your personal information with?
Except as set forth in this privacy policy, we do not sell or release your Personal information to third parties without your consent. However, we reserve the right to gather, analyze, aggregate and transform non-personally identifiable information sourced from all or any portion of our visitors and users, and to make this information available at our site or through other means, channels or partners at such time and on such terms as we believe are appropriate.
We retain the right to manage our operations, including using service providers of our own choosing, to facilitate the development, hosting and ongoing support of our services to meet our business goals. For example, we may use the services of third-party companies to host our services and these services may or may not be located in the same jurisdictions or regions as the customers using our services. Our employees, consultants, contractors, suppliers and partners, if authorized, may have access to our customer information or the systems storing it as part of and solely for the purposes of performing their jobs, or within the scope of their agreements with us. In all cases, we use reasonable efforts to ensure that your Personal Information, as part of our confidential business information, is protected under contracts with such persons.
While we take care to use only service providers that we believe are reputable and able to live up to our and your expectations, including about the handling of confidential information, Jay & Oak Solutions is not liable for unlawful or unauthorized use of Personal Information by any of such persons unless such unlawful use was a direct result of our gross negligence or willful misconduct.
With your authorization, we may disclose your Bookkeeping Data (and any Personal Information related thereto) through our service to a third-party accountant or other services of yours. If you authorize this disclosure, the use and disclosure restrictions contained in this Privacy Policy will not apply to such third party. We do not control the privacy practices of any third parties.
We will also share your Personal Information if we are required by law (including any generally applicable law or any specific court order or other legal process binding on us) or if we otherwise determine in good faith that such disclosure is necessary to resolve disputes and/or protect or defend the rights or property of our Company and other users. We will use reasonable efforts to make you aware of such disclosure promptly unless we are prevented from doing so.
If you provide feedback to us, we may use and disclose such feedback for any purpose, provided we do not associate such feedback with your Personal Information. We will collect any information contained in such feedback and will treat the Personal Information in it in accordance with this Privacy Policy.
Your use of the Personal Information of others
If you choose to provide Personal Information of any third party, we will assume that you have the third party's permission to provide us that information. Examples include site referrals to friends. This information will not be used for any purposes other than those described above. You agree that, with respect to the Personal Information of other persons that you collect, use and disclose to us, you have all necessary consents and rights to collect, use and disclose that information as described in this Privacy Policy from time to time, and you agree that you give us indemnity as it applies to any non-compliance by you with respect to the foregoing.
The site may contain links to other websites that are not owned or controlled by us. We have no control over, do not review and are not responsible for the privacy policies of or content displayed on such other websites. When you click on such a link, you will leave our service and go to another site. During this process, another entity may collect Personal Information from you, and we do not collect information from you that you submit on such third-party sites.
How do we keep Personal Information secure?
We use commercially reasonable efforts to ensure that Personal Information is secure. In order to prevent unauthorized access or disclosure, we put in place suitable physical, electronic and managerial procedures to safeguard and secure the information we collect, as well as the modes of access to it. This includes, but is not limited to:
https protocol and website encryption
Up to date commercial malware protection for any devices containing Personal Information
Use of secure third-party applications for information management or financial transactions done on the cloud (I.e., LastPass, Stripe, etc.) with complex passwords and a minimum of two-factor authentication
Secure file transfer and storage applications
While we strive to protect your Personal Information, we cannot warrant the security of any information you transmit to us. We strongly recommend that you take all precautions to share Personal Information through encrypted and secure means. We also retain Cybersecurity Insurance in the amount of $500,000/event in the event of any data becoming corrupted or accessed unlawfully.
How can you access, correct and update your personal information?
To review and update your Personal Information to ensure it is accurate, you may contact us. If we are unable to provide access or disclose information to you, we will explain why, subject to any legal or regulatory restrictions.
How will you learn of updates to our privacy rules?
We may update this Privacy Policy to reflect changes to our privacy and data management practices. If we make any material changes we will notify you by email (sent to the e-mail address specified in your account) or by means of a notice on this Site prior to the change becoming effective. We encourage you to periodically review this page for the latest information on our privacy practices.
Our service is not directed to children and children are not eligible to use it. Protecting the privacy of children is very important to us. We do not collect or maintain Personal Information from people we actually know are under 18 years of age, and no part of our service is designed to attract people under 18 years of age. If we later learn that a user is under 18 years of age, we will take steps to remove that user's Personal Information from our databases and to prevent the user from utilizing the service.
Use of Third-Party Services
Jay & Oak Solutions, LLC uses numerous third-party applications. Where necessary and possible, clients who participate in Jay & Oak's services will establish an account with third-party providers (such as Expensify, WordPress, QuickBooks Online, etc.) and obtain access for Jay & Oak Solutions that is appropriate to the need for services to be provided. In this case, you must agree to all Terms and Conditions and any other legal requirements of operating this account. Any information you provide to any third-party service is subject to its policies and procedures as outlined in its privacy policy, and Jay & Oak Solutions, LLC is in no way responsible for any other organization's or individual's use of your information or its privacy practices through such third-party services.
In some cases, Jay & Oak Solutions will house your Personal Information on third-party applications (such as file management and transfer applications). In these cases Jay & Oak will take reasonable precautions to ensure that the third-party application has protections and policies in place to provide adequate and reasonable security for your Personal Information prior to utilizing that application.
Internal Controls Policy for Bookkeeping Services
To meet industry-accepted best practices to ensure the safety of our client's finances, Jay & Oak Solutions, LLC abides by the following Internal Controls policies and practices:
Legal Agreement
Jay & Oak Solutions will never conduct services with any other party without a signed and executed Agreement that clearly spells out the duties, expectations, and limitations of Jay & Oak's services and a process for resolving potential conflicts or misunderstandings.
Background and Credit Checks
All of Jay & Oak's clients are encouraged to conduct a background check on any and all Jay & Oak Solutions team members who work with the client's finances in any capacity.
We encourage clients to undergo background checks for all hires of employees or contractors who are expected to interact with or have any authority around the client's finances or financial information.
Additionally, we encourage clients to conduct credit checks on any individuals who are employed or contracted to interact with or have any authority around the client's finances or spending.
Insurance
To protect our clients and our business, Jay & Oak Solutions carries the following insurances, designed to cover the total annual revenues of any clients. Current insurance held include:
Professional Liability/Errors & Omissions:
-Protects against loss of property due to unintentional errors in bookkeeping, web design or other services by Jay & Oak Solutions LLC
-Coverage: $1M each claim and/or event /$1M aggregate
Cybersecurity
-Covers costs associated with the following:
-Security/Data Breach
-Cyber Extortion
-Cyber Crime
-Business Interruption
-Data Recovery
-Privacy Protection
-Coverage: $500,000 each claim and/or event /$500,000 aggregate
Jay & Oak strongly encourages all clients to carry similar insurance to ensure safety of their finances and financial information.
Separation of Duties and Access to Accounts
To ensure separation of duties, Jay & Oak Solutions will not provide services in which we are responsible for cutting checks, making deposits, selecting vendors, or otherwise handling financial transactions on client's behalf while also maintaining records for and reconciling those transactions.
The following exception to the above is that Jay & Oak Solutions can provide a "Treasurer" role, in which we can cut checks or conduct other transactions if and only if there is a clear and established system that makes it impossible for Jay & Oak Solutions to conduct such transactions without explicit approval by a separate authorizing party (usually the owner).
For the safety of its client's business, Jay & Oak Solutions will not work with unrestricted access to client funds! We will work to ensure that we have the appropriate-level of access to client account information to conduct contracted services WITHOUT requiring unrestricted access to client accounts or funds.
Internal Controls Education and Systems Establishment
Jay & Oak Solutions will actively work to help clients better understand and find possibilities in existing financial processes, and support clients in setting up the processes and policies to ensure that they are following industry-standard best practices for financial safety.
We will be there to make your involvement easier with regular financial statement presentations and analyses, and high responsiveness to your questions for anything that arises.
Note that Jay & Oak Solutions is not responsible for the financial and management decisions made by its clients and cannot guarantee the safety of a clients' finances or financial information, even if all best practices are followed.-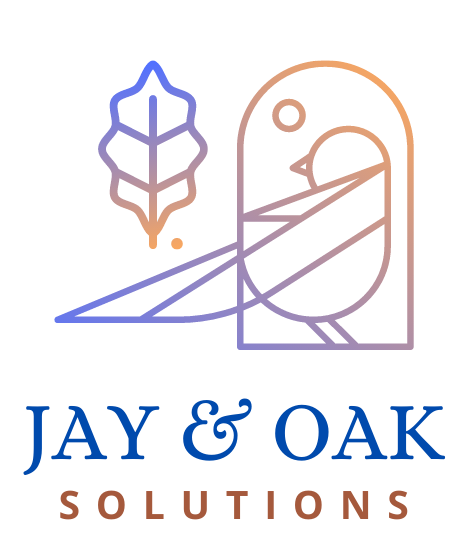 trusted allies on your business journey.
home • about us • bookkeeping & finance • website & design • project & training strategy •